Weekly Kaihoh / Liberation


No. 2523
(June 18th 2018 Issue)
'Down with the Abe government!'
Militant workers and students demonstrated through the city of Sapporo, May 27th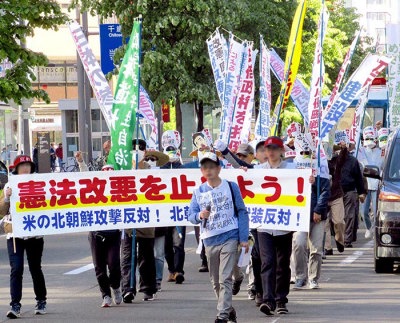 'Stop the revision of the Constitution! No to the revision of labour laws!'
------ Protesters marched on the Liberal Democratic Party's local office
They fought criticizing the JCP leadership's abandonment of the fight against the US-Japan military alliance

- -


'Denounce the deployment of F-22 fighter jets at the US Kadena air base!'
Workers, students and residents protested at the base gate, Okinawa, June 4th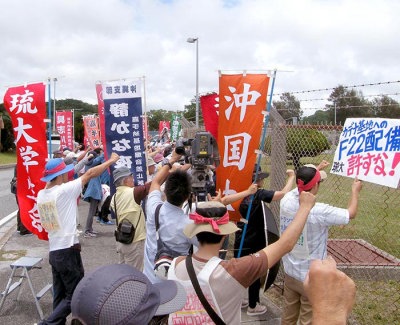 Ryukyu Univ. and Okinawa Int'l Univ. students fought in the van,
raising the slogan against the US-Japan nuclear military alliance

[2]

'Don't allow the railroading of the labour reform bill through parliament!'
Militant workers and students strived for the upsurge of a mass rally
against the revision of labour laws, Sapporo, May 27th

Students carried a big banner with slogans:
'Stop the revision of the Constitution! Stop the passage of the labour reform bill!'




The law that allows 'plea bargaining' has come into force
Shatter the strengthening of authoritarian repression by the Abe government
aiming to apply the 'conspiracy law' with the use of this system!

Expose the deception in the government's 'measures against long working hours'!
The Labour Ministry is conversely going to emasculate the inspection work
of the Labour Standards Inspection Office by outsourcing part of the jobs

[3]
Shinzo Abe: Trump's 'automatic teller machine'
-- The full story of the US-Japan summit talks on June 7th
- Trump is counting on Japan's purse
- Abe obediently accepted Japan's purchase of US-made weapons in huge quantities
--and agreed to start bilateral trade talks

Mahathir bin Mohamad is plotting to redress Malaysia's inordinate dependence on China

[4]
Stop the passage of the labour reform bill with the power of the working class!
Denounce the treachery of the JTUC leadership!
- Imposition of ultra-long working hours, destruction of the eight-hour working day system: a historic offensive against workers
- The government is responding to the demands of monopoly capitalists bent on 'productivity improvement'
- Denounce the JTUC labour aristocrats for accepting the so-called 'highly professional system', a working system with no regulation on working hours!
Solidify the struggle against labour reforms!

[5]
Don't allow the cover-up of the Moritomo and Kake school scandals
by the Abe government resting on the NSC autocracy!

[6]
Condemn the zero wage increase for three consecutive years!
Denounce the allowance cuts and deprivation of postal workers' rights to take holidays!
JRCL Postal Workers Committee
- Accuse the Postal Union leadership of accepting the compromise in the spring labour offensive
-- in disregard for the life of postal workers being destroyed!
- Don't allow them to justify their treachery in the name of 'achieving equal pay for equal work'!
- Denounce the leadership for fully supporting the restructuring and rationalization of the company!

[7]
The Fukui municipal authorities are proposing big wage cuts to the public sector workers
on the pretext of increased expenditure on snow-removal work

Topics
Don't allow the intensification of the labour of nursing care workers caused by the introduction of robots into workplaces!

[8]
I will cultivate my own 'view of history' as an anti-Stalinist revolutionary Marxist
by learning from Kuroda's philosophy of praxis
-- My determination on the centenary of the Russian Revolution

TOP

No. 2522
(June 11th 2018 Issue)
Rise in the Workers and Students' United Actions on June 17th!
Stop the revision of the Constitution! Crush the US-Japan nuclear military alliance!
Create a big surge in the anti-Abe government struggle!
Let us fight resolutely, overcoming the JCP-led peace movement
that abandons struggles against the US-Japan military alliance!

Central Students' Orgburo @

I. Intensifying confrontation between the US-Japan and China-Russia in today's world
A. Deceptive negotiations and conflicts between the Trump administration and the Kim regime
B. Escalation of the nuclear arms race between the US vs. China and Russia
- China and Russia are assuming increasingly aggressive attitudes in policies and arms races against the US
- US and Japanese imperialists are desperate to strengthen their nuclear military alliance
C. Secession from the nuclear agreement with Iran and transfer of the US embassy to Jerusalem are increasing the danger of a war

II. The Abe government is hell-bent on revising the Constitution and strengthening the US-Japan military alliance
A. An all-out offensive aimed to restore 'militarist Japan'
B. Zengakuren is fighting consistently, overcoming the opposition movements distorted by the official leaderships that glorify citizen-oriented movements

III. Create a huge upsurge of struggles against the constitutional revision, against the US-Japan military alliance and against war!
A. Absolutely 'No!' to the revision of the Constitution! Rise against the Abe government!
B. Promote revolutionary antiwar struggles with the slogan, 'Stop a Korean war! No to the nuclear armaments race between the US vs. China and Russia!'
- Fight dauntlessly against the US-Japan nuclear military alliance!
- Denounce the massacre of Palestinian people by the Israeli government!

[4]
Shatter the deployment of CV-22 Ospreys in the US Yokota base in Tokyo!
- Trump is scheming to strengthen the Yokota base as a strongpoint for US Special Forces
- Assuming mountainous regions in Japan as battlegrounds in the Korean Peninsula, flight-training exercises are being strengthened
- Let us fight under the banner 'Against the US-Japan military alliance!'

[5]
Don't allow Shinzo Abe to put an end to the Moritomo school scandal!
Down with the Abe government resting on the NSC autocracy!

[6]
Successive occurrence of fatal accidents involving foreign 'trainees' employed as fishermen under the Technical Internship Program
They are the victims of the Japanese government's policy to cover up for a labour shortage

Topics
A declaration of increase in consumption tax and cuts in social security payments in the name of 'putting finances on a healthy footing'
-- The outline posed by the government for its economic and fiscal policies

[7]
Don't let the Japanese government obstinately stick to the nuclear development!

The Abe government is moving to decide the location of a disposal site for high-level radioactive waste,
trampling on a mass protest (Part 2)

[8]
Kaleidoscope
- Hot competition between the US and China for the command
of the South China Sea, the western Pacific, and even the Indian Ocean

- The Abe-led LDP drew up a 'plan' for a new military strategy of Japan,
a plan suitable for a 'client state' of the United States

- Misery in a 'brilliant human resources market' in Shen Zhen

TOP

No. 2521
(June 4th 2018 Issue)
Stop the revision of labour laws!

'Block the passage of the 'work-style reform' bill!'
'Let us fight it out! Denounce the treachery of the JTUC leaders!'
Zengakuren and militant workers held a protest action
May 23rd, in front of the Diet Building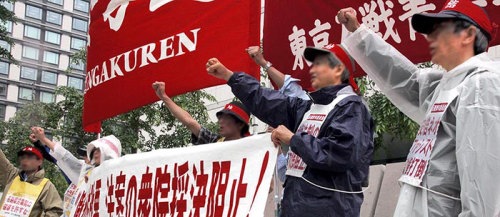 [2]
Denounce the Trump administration for transferring the US embassy to Jerusalem!
Condemn the Netanyahu government for massacring Palestinian people!
Zengakuren carried out protest actions at the US and Israeli Embassies May 18th, Tokyo


Angry voices lifted up against the US embassy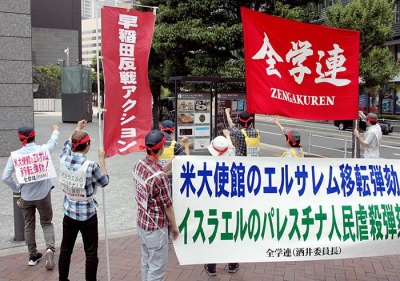 Transfer of the US embassy to Jerusalem,
secession from the nuclear agreement with Iran
Trump is starting another warmongering in the Middle East
- Israel's bloody massacre of Palestinian people is supported by US imperialism
- Anger against US imperialism, against Zionism is spreading
- Rulers of Saudi Arabia and Egypt connived at the transfer of the US embassy
- Trump, crying out for tougher sanctions, manoeuvres to contain Iran
- Promote a revolutionary antiwar struggle in solidarity with Palestinian and other Middle Eastern people fighting against US imperialism, against Zionism!

[3]
'Down with the Abe government!'
Workers, students and toiling people held a protest rally May 19th, Nagoya


'Overthrow the Abe government!'
Hoisting a vertical banner,
militant students called on the protesters

Nagoya Univ. and Aichi Univ. students, among others,
spirited up the demonstration

The Abe government is moving to decide the location of a disposal site
for high-level radioactive waste, trampling on a mass protest (Part 1)

[4]
Scrap the cuts in allowance and wages planned by the management
in the name of 'achieving equal pay for equal work'!
Denounce the union leadership for agreeing on the plan!
JRCL Postal Workers Committee
- Condemn the leadership's acceptance of a zero wage increase for three consecutive years!
- Denounce it for approving Abe's 'work-style reform'!

[5]
Toyota's spring labour offensive
Labour aristocrats, along with the management, changed the labour offensive
into 'consultations for boosting competitiveness'

[6]
Deceptions in Abe's plan for 'free preschool education'

Topics
The Abe government is scheming to promote a privatization of water services by revising the Private Finance Initiative law

[7]
My study note
Learning from Comrade Tobiume's Teachings of Kan'ichi Kuroda@

[8]
Kaleidoscope
- A merchant of death: Trump is frantically expanding arms exports

- Putin's crafty shot aimed to foil Abe's desire prior to his visit to Russia

TOP
* Weekly Kaihoh is edited in Japanese.
Back Issues