Weekly Kaihoh / Liberation


No. 2641
(October 19th 2020 Issue)
Rise in Workers and Students' United Actions on October 25th!
Shatter the Suga government's attempts to build a military system
of pre-emptive strikes and revise the Constitution!
Let us advance struggles by overcoming JCP leaders' abandonment
of opposition to the US-Japan military alliance and neo-fascism!
'Denounce Suga's refusal of six scholars to the Science Council!'
Militant students' voices of protest against neo-fascism echoed,
in front of the PM's Office, October 5th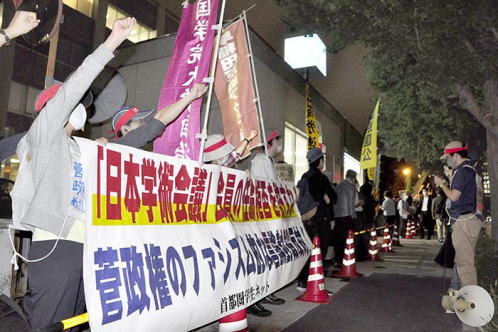 Central Students' Orgburo
1. The danger of war breaking out amid the 'US-China cold war'
A. The Suga government launching ultra-reactionary offensives
B. Confrontation between the US and China over East Asia
C. The JCP-led opposition movement supporting an electoral tie-up between opposition parties and the revolutionary left fighting to overcome this distortion
2. Let us stir up a struggle to crush the Suga government's ultra-reactionary offensives!
A. Denounce the distortion of struggles by the JCP leadership that has abandoned opposition to Ampo [US-Japan military alliance]!
B. Create an explosive upsurge in the antiwar, anti-Ampo and anti-constitutional revision struggles!
- Eradicate the danger of war breaking out amid the 'US-China cold war'!
- Fight back against the imposition of sacrifices on workers and the toiling masses in the middle of the pandemic depression!
- Let us fight resolutely with the aim of overthrowing the Japanese-type neo-fascist government led by Yoshihide Suga!

[4]
Denounce Suga's refusal to appoint six scholars as new members of the Science Council of Japan!
Oppose the Suga government's fascistic suppression of free speech!
October 6th
All-Japan Federation of Students' Self-Governing Associations [Zengakuren]

PM Suga and his henchmen changed the format of a press conference:
Only public interviews by a select few reporters are granted
Don't let the Suga government tighten controls on the media!

A malicious intent behind crime investigation
The government and the police are bent on collecting DNA fingerprints from people to make a database of personal information

[5]
No to the strengthening of the screening of junior high school textbooks for history and civics !
Stop the Education Ministry from enforcing the use of virtually 'government-approved' textbooks in all schools!
- Smash the neo-fascist reorganization of education!
- Let us create fruitful discussions among education workers from within our workplaces by overcoming official union leaders' distortion and abandonment of struggles!

Topics
All Nippon Airways forcing early retirement and wage cuts upon workers
Japan Airlines coercively assigning totally different kinds of work to workers
Fight against capitalist offensives for the major restructuring of airline companies!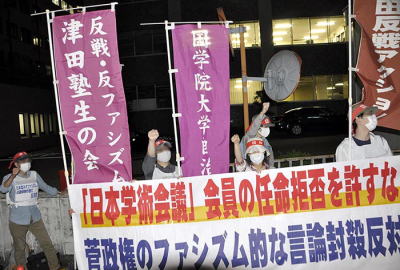 'No to fascism!' Making their position clear, students fought
in front of the PM's Office, October 5th


[6]
'No to Suga's rejection of six scholars as new Science Council members!'
An emergency action held in front of the PM's Office
October 6th
Militant students fought together with workers and citizens


'Stop the Suga government accelerating the reclamation work in Henoko!'
Angry workers and people of Okinawa held a rally against the continued construction of a new US base
October 3rd, Henoko, Okinawa
JRCL called on protesters to fight for the 'removal of all US bases', for the 'repeal of the US-Japan Security Treaty'


Zengakuren Okinawa fighting in the van of protesters,
at the Camp Schwab gate

Militant students went on to stage another protest action
near the construction site
TOP
Back Issues