Let's Fight against Russia's Aggression in Ukraine!
Q and A
(From special pages for new students,
Weekly
Kaihoh
, No. 2763)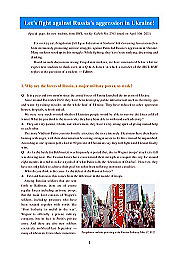 Click the image to see the full text in English
The original Japanse pages in PDF format
accessible below
Together with Ukrainian People
Central Workers' Orgburo of the JRCL (RMF)
Click to see the full text
60th International Antiwar Assembly in Japan
Working people all over the world, unite to crush Putin's war!
Break through the danger of a thermo-nuclear war
erupting amid the clash between the US and China-Russia!
Click to see the full text
No to aggression in Ukraine
Russian people, down with Putin!
Solidarity with Ukrainian people!
The JRCL statement (Feb. 27) in English, see
the full text
and
the leaflet
in Russian, see
the full text
and
the leaflet