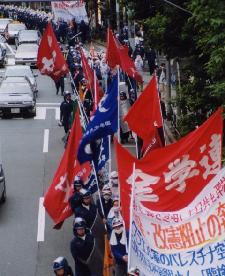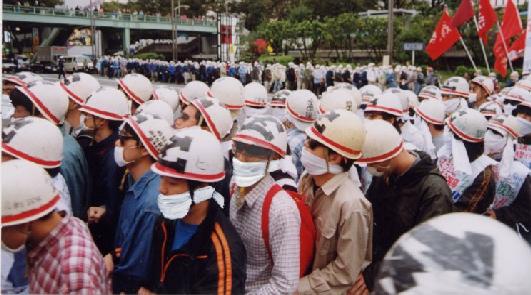 Zengakuren
and
Antiwar Youth Committee
sponsored annual antiwar rallies on 22 October in Tokyo, Osaka, and Nagoya.
Photo right: students start the demo in Tokyo.
Left: front banners in the march.
No to the US-Japan joint military exercise! Fight together at drill sites!
Aibano (2 Nov.), Sasebo (6 Nov.), Tsuiki (7 Nov), and the US Air Yokota Base in Tokyo (9 Nov.)
[2]
Angry fists against successive port-calls by US military vessels
13 Oct. in Hokkaido
: Zengakuren demonstrate against the US aircraft carrier together with 1500 workers from local trade unions
6 Oct. in Osaka
: Zengakuren protest the US cruiser's call at a civilian port
No revision of the Fundamental Law of Education!
14 Oct. Tokyo Students March
14 Oct. in Fukuoka
: Local students protest against the public hearing by the National Conference of Educational Reform
[3]
Kaleidoscope 2000
-
No Nobel Prize but an Academy Award to Kim?
For directing that show before Albright.
-
Really kids' play!
Planned 'point-cards' to be given to kids who show 'volunteer's spirit': only to produce those who do it for card collection?
- Franken-rice comes after the
Franken-corn
?
- '
War victims are 3 millions but less cruel because abortions are more
'??? -- That Christian lady, among the consultants to Mori for 'Educational Reform'
[4-5]
JCP history full of bankruptcies and confusions
:
Series No. 1
Exposing the myth of the 'consistency in the programmatic line'

- Fuwa-Shii leadership falsifies the 'History of the JCP' to cover up its true history full of opportunistic revisions in basic lines of the party
1. Right-and-left confusions repeated since the 1961 Programme: never erasable!
- A stretched interpretation of the 1961 programme as a 'line for a democratic revolution'
- Cover-up of the about-turn to the 'sovereign independence' line in 1966.
- The 1984 change to the line of 'transition to socialism in a non-peaceful form': erased
- The 1989 conversion to the line of 'reform within the framework of capitalism': also covered up.
2. 'Consistency in the programmatic line': an ultra-demagogical tag
- Position of 'sovereign independence': fake!
- The 'consistent theory for democratic revolution': fabrication!
- Declaration of its abandonment of 'socialism'
[6]
Smash the official order by the Sapporo City Board of Education to impose the flag and anthem!
by JRCL Hokkaido Regional Educational Workers' Committee
Report:
JCP-led annual 'anti-Security Treaty Rally' with no anti-Security slogan
Topics:
'Show teachers' alternatives by a united 3-minute action instead of strikes', said
JTU leaders
currying the favour of the National Conference of Educational Reform,
[7]
Never allow the leadership of the JR Kyushu Workers' Union to sacrifice members who have cancelled their withdrawals!

- A deceptive trick by the degenerate leadership
- Let us rise up in response to the statement from the JR East Workers' Union!
Smash a provocative 'intervention' by the Chukaku-ha sect as tools of the state power!
[8]
The released 'Defence Report 2000'
Justification of war preparations under the pretext of 'coping with threats from China'

- Proposals to upgrade Japan's own 'capacities of crisis control'
- Breakthrough measures of Japanese imperialism for an 'Asian leader'
- Tricks to implant defence consciousness in the minds of the nation
TOP