No. 1622 June 5th

No Revision of the Constitution! Build a Broad Fighting Front!

Smash schemes to strengthen the neo-fascist ruling order!
Overcome the official 'defend the Constitution' movement degenerate and rotten!

- The Mori Administration draws its sword for the constitutional revision.
- Intensified offensives aimed at trade unions struggling against the today's version of the Industrial Patriotic Movement.
- Overcome the rotten official leadership! Advance struggles against schemes for the Constitutional revision and military build-ups!

[2] Zengakuren
19 May: nation-wide protests against the plan to turn national universities into independent administrative institutions (in Tokyo, Hokuriku, Tokai, Kansai, Kyushu and Okinawa regions).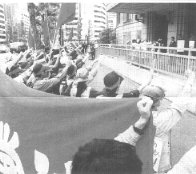 - 'No revision of the Fundamental Law of Education!' Students surrounded the headquarters of the Education Ministry.
- Also protested against Mori's 'land of the gods' remarks at the gate of the Diet building. (Photo)

14 May: Zengakuren welcoming meeting for freshers in Tokyo, rallying fresh forces for struggles.
- 'Let us fight to break war preparations!', Mr. Iida, Chairman of the Zengakuren.
- 'Leap to be the Subject who changes the world today!', Comrade Asakura for the JRCL greeted the participants.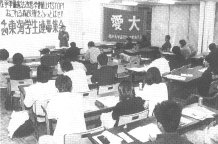 30 April: students in Hokkaido marched through the central of Sapporo against war preparations and held a meeting to welcome freshers at University of Hokkaido.

29 April: students in Tokai region held the 'Kick the Mori cabinet' meeting at Aichi University.
(Photo)
[3] Kaleidoscope 2000
- The Pied Piper of Hameln of today, graduate of the Juilliard School of Music, is now out of form...leading American investors to a panic?
- He who hates Chen harms his dogs? A pop singer of Taiwan, most popular in Beijing, has disappeared from the Media in the mainland.
- The 'Land of the Gods' remarks, a concealed record of prostitution, meeting with a boss of gangsters...what next with Mori?

[4-5]
Join antiwar, anti-Security Treaty actions on 18 June!
Block revision of the Constitution! Smash the G7 Summit in Okinawa!
The official leadership of SPDJ and JCP has immersed themselves in the general election. Fight together by overcoming their parliamentarianist distortion!


JRCL Central Students Organizing Committee

I. An impeding crisis of warfare in Asia under the 'New Cold War.
1) Confrontations between the US and China-Russia intensifying over East Asia as a focus.
- China and Russia: strengthening the effective 'anti-American' alliance.
- US imperialism: struggling for containment against China and Russia.
2) Japanese imperialism rushing for war preparations and revision of the Constitution.
- Building of a joint war-operating order between the US and Japan.
- Rushes for building a national mobilization order of today.
- Intensified coercions and control against opposition movements.
3) The official opposition movement led by the SPDJ and JCP with the 'Anti-Security Treaty' cause put on the shelf.
II. Block revision of the Constitution! Smash the G7 Summit in Okinawa! Rise in struggles!
1) JCP's criminal proposal for 'proper arguments over the Constitution'
- 'A peaceful trend in Asia', a fallacious illusion.
- Distortion of struggles into a campaign to demand a 'change of diplomatic policies'.
- A bourgeois transformation of the 'Defend the Constitution' cause.
2) Build a fighting front for 'anti-war' and against neofascist reactions!
[6]
May Day Ralles in Aichi Prefecture
- 'May Day Festival' of Rengo Aichi held on not the day but 29 April: 'You're killing May Day!' Workers expressed their anger against the leaders holding the 'popular music show'.
- JRCL also propagandized in the JCL-led rally.
May Day Rally of Rengo Fukuoka
- The leadership pulled down even the 'anti-restructuring' slogan.
- Workers struggled against the Industrial Patriotic festival.
May Day Rally of Rengo Ishikawa
- Supportive responses expanded to JRCL propaganda against the Security Treaty.
- Denounced the leadership immersed in the election campaign.
[7]
Schemes for reactionary revision of the Fundamental Law of Education in the name of 'patriotism' and 'individualization'
Stop the Mori Administration aiming for a reactionary reorganization of education!
- Mori's ultra-reactionary administration rushing to 'education reform'.
- A 'National Conference on Education Reform' set up with the aim of revision of the Fundamental law of Education.
- Greater 'national pride' and 'different aptitudes' instead of 'respects for individuals' stressed by conservatives in their 'draft for revising the Fundamental Law'.
- Reorganization of education based on the strategy for 'military big power' and 'technology-based nation'.
- Bourgeois efforts to cope with the devastated schools and declined achievements of the youth.
- Reorganized labour market and monopoly bourgeois desire to national education.
[8]
Watch for conspiratorial sabotages to railway operation and frame-ups against labour movement under the new JR managerial order headed by Kasai and Otsuka!
A 'blackmail' sent to JR Tokai implies a sabotage against bullet-train operation.
- The same signature was found as in the letter that stated the responsibility for the sabotage in 1993.
- In the midst of successive sabotages attempted nation-wide.
At Tabata in Tokyo on 3 May: sabotage was attempted amid the tense alert; the police helped a 'criminal' to flee
- Police had asked JR East to keep its guards away the site.



TOP