Smash Prime Minister Koizumi's Official Visit to Yasukuni Shrine!
Join the Zengakuren fight 15 August!
- The Koizumi government aims to glorify the aggressive wars and inspire a 'patriotic spirit'.
- Fight the struggle by transcending the SDPJ / JCP revealing their peace-touched brain!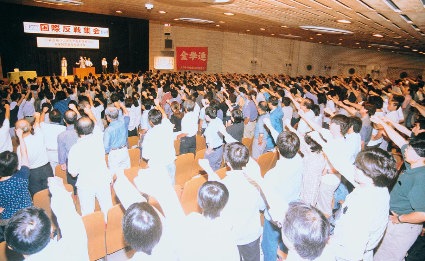 5 August the central meeting of the International Antiwar Assembly
1300 participants made up their resolution to advance antiwar struggles
- The keynote report: Advance an international antiwar struggle to break the 'new cold war'!
- Messages of solidarity from abroad
- Block the closure of the student centre! An appeal with the recorded video from Waseda Univ. students was warmly welcomed.
- The special report: clearly exposed the neofascist nature of the 'Koizumi Reform'.
- An education worker: reported on surging struggles against the ultra-nationalist textbook.

[2]
24 July in Okinawa: protests waged against successive crimes by U.S. servicemen
- Okinawa Kengakuren protested at the U.S. Kadena Air Base against an arson attack by an American soldier.
- The official Peace Movement Centre held a 'People's Rally': Kengakuren students struggled to inspire the participants in solidarity with militant workers. (Photo left above)
'Denounce the raping incident! No strengthening of military bases!' The resolution was adopted by the All-Student Meeting in the Students Association of the University of Ryukyus on 13 July. (Photo above right)
[3]
Two thousand Waseda students fought against the school authority all through the night to block the closure of student club rooms (31 July)
| | |
| --- | --- |
| | |
| A millitant student on the roof calling on students to block the closure of the student club house | Students pushing away the authority at a gate |
| | |
| At the entrance: club members relaying their speeches. | A historic mass rally at the school's gate |
Waseda
'Never let the authority attack the student autonomy!' Mass anger exploded against the scheme to close student club rooms.
- The student power stopped the authority from closing the Student Centre I.
- 2000 students continued a rally of protest until 4:00 am. at the schools' front gate.
- An epochal fight for breaking the neofascistic reorganization of universities.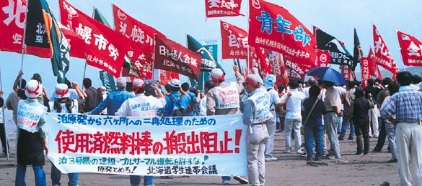 4-5 July in Hokkaido: Stop shipping the nuclear waste!
- Militant students struggled to inspire workers and residents at a Peace Forum's rally.
- Waged protests against sail of the cargo ship.

23 July No SDF troops dispatched to the Golan Heights! Local students protested against the Land SDF base in Obihiro, Hokkaido.

[4-5]
Friction between unilateralism and 'anti-U.S., sick-of-the-U.S.' nationalism
How the banquets in Genoa progressed
1. Conflicting interests with no room for deceptive compromise
- Uncompromising oppositions over the missile defence project
- Collisions over the Kyoto Protocol and Koizumi's cheep trick
- An empty 'co-operation' for fear of a globally simultaneous recession
2. 'U.S.-Japan co-operation' isolated from the world
- The Bush administration rushing for developing the MD system
- Koizumi's countermeasures driven by the 'threat of China'
[6]
Topics 'The structural reform is just a chant' A boastful LDP leader spoke at the Rengo Summer Seminar before depressed labour aristocrats
Is he really an academic? The latest article by the scholar of an iron nerve
Russia Mining workers rose in struggle against the worse labour code: opposition movement but in disarray
Ukraine in turbulence No. 3
The Kuchma administration rapidly approaching to Putin's Russian government
- Joining the world's poorest counties
- Either joining a tripartite Slav state union or being a member of NATO
[7] Kaleidoscope 2001
- Makiko Tanaka's please-all performances
- Go-it-alone: the world's biggest rogue
- After the election 1: JCP turns right again? No. Just zigzagging.
- After the election 2: SDPJ complains about.
- After the election 3: The barnacle-like Chukaku faction supported an SDPJ candidate with no comments from the very candidate
[8]
'A century of NGOs': an illusion
1. 'Revolts against globalization'?
- JCP on NGOs: glorification.
- 'Battles in Seattle' Clinton took advantage of.
2. Varying nature of NGO currents and their ideologies

NGO currents were highlighted from Seattle through to Genoa. Are they really a 'messiah of the 21st century' that breaks the 'contradictions of the global capitalism'?

TOP