No. 1605 February 7th


Denounce Russia's Invasion in Chechnya!
Stop US-Japan War Preparation!
Let Us Advance the Revolutionary Antiwar Struggle
to Eradicate the "New Cold War"!
- Russia: rushing towards a patriotic order based on a 'national unity'.
- US, EU, Japan: wary of the latest developments in Russia.
- A crisis of global warfare intensifying under the "new cold war".
- Breakthroughs measures by Obuchi suffering the 'crisis of the nation'.
- Antiwar, anti-Security Treaty, and anti-Constitutional revision: Build a militant front!
[2] Zengakuren
22 Jan, Tokyo: demonstration to the Russian Embassy and the Diet Building to condemn the Chechen invasion and stop the Constitutional revision; denouncing the official SDPJ / JCP leadership as abandoning the struggle.
23 Jan., Hokkaido: protested against the invasion at the gate of the Russian Consulate; also expressed the opposition in front of the local LDP office against the planned US-Japan joint drill.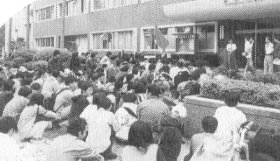 9 Jan., Okinawa: picketing the SDF base together with local trade union members to stop officials participating in the coming-of-age ceremony.

From Kagoshima University in Kyushu: surging protests against the authorities planning tightened control on students' circles.
(Photo. At the head office of the Univ.)

[3] Kaleidoscope 2000
Possibly, the most stupid man in the millennium: JCP head Fuwa described Marx only as 'a great scientist', while even BBC said the most voters cast for Marx as 'the greatest thinker in the millennium'.
Discouraged Miyazawa, beat in G7 by Summers.
Classified documents of the Public Security Investigation Agency exposed: a spying network planned to extend even to Japan Pen Club, Journalist Association, and human rights, peace, anti-nuke groups; with remarks 'If objected, explain it in relations to the need to investigate JCP or radicals.'
[4]
No way out: expressed by Chukakuha in their New Year paper.
Put an end to the tools of the state within the century!
[5]
JCP beautifying the revised Equal Employment Opportunity Law as 'banning the sexual discrimination'
- Beautifying the revision with no relation to the revised Labour Standard Law removing the cords for women protection.
- Interpreting the revised text from the point of view of 'sexual equality' and 'removal of the discrimination'.
- 'Stop the revised Labour Standard Law coming into workplaces'?
[6] Smash the offensives for major restructuring and wage cuts!
Private buss companies: deserting 'unprofitable' divisions, reductions of operations, etc.; a system of staff on contract period applied to all the employees in relation to reassignment of the operation to / from other companies including subsidiaries.
Small / middle size enterprises: from a workplace suffering from harsh tasks imposed by monopoly capital in electric machine industry.
Auto industry: Ford-controlled Matsuda imposes intensified labour in a Yankee style, demanding harsh cost cutting from sub-affiliated companies, extracting several-hundred-hour over-time labour with no pay.
[7]
Smash JR 'bomb' conspiracies engineered by the conspiracy-conducting group in the state power! Build a front to break US-Japan war preparation and the neofascist reactionary offensive!
- A series of 'bomb' accidents: deliberately engineered.
- A man arrested for cover-up.
- The conspiracy-conducting group moving behind the scene.
- Neofascist reactions intensified by the 'three-way coalition' government.



TOP